Christopher Saam, the Entertainer
(P)SAAM 1: Thou Shalt Make People Laugh!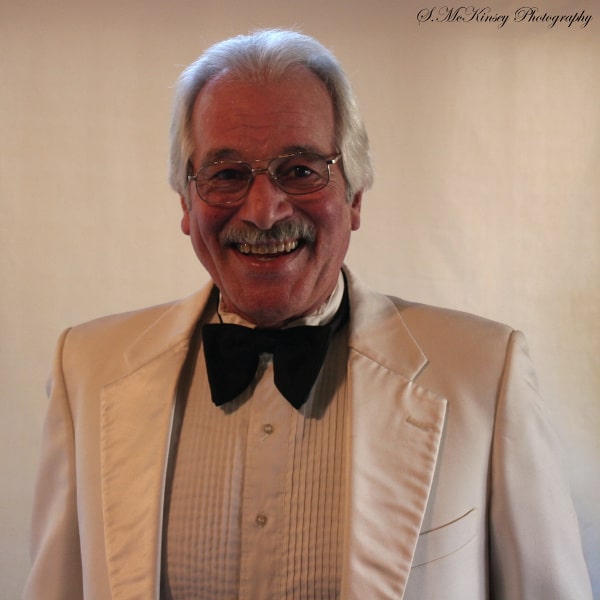 Born – September 26th, 1956
Height – 5 feet 10 inches
Weight – 169 pounds
Hair – Silver Grey
2021 – Hustle (2021 Netflix) – Extra.
2021 – You Bet Your Life Contestant. View Artilce >>
2012 – The North Star Movie – Extra. View Outfit >>
2010 – Forensic Files on True TV; Hell's Kitchen episode.
2008 – NBC's America's Got Talent in New York's Javis Center; two auditions and an exit interview. They filmed three videos. Who knows?
2007 – Promotional Productions: Marvel Comics – two personal appearances as Spider Man at Walmart in Reading, PA for movie opening and at Walmart in Lancaster, PA when DVD went on sale.
2006 – TV Commercials: Ableoff Buick, East Stroudsburg, PA; Lane Furniture, Wilmington, DE; Movie Spot: "So Big" Independent Short Opening on May 3, 2007; Promotion Productions: Quaker Food Co., Breast Cancer Awareness Run, Philadelphia, PA; Sunoco Fuel @ Racetrack; U.S. Army Drag Racing Team; Kicking Cow Products for Dog Show.
2005 – Play: Sweet Adelines, Red Rose Chapter; TV Commercial: Roth Rock Auto Sales, Allentown, PA; Radio Commercial: Rod Sterling voice for Middletown Auto Sales in New York; Rodney Dangerfield voice for Generic Loan Co.
1998-99 – Allenberry Playhouse Murder Mystery, Maxwell's Dead & Breakfast (16 week run)
1981-89 – Standup Comedy: New York – Dangerfield's and Catch A Rising Star; Los Angeles – Carolines and Comedy Store; Philadelphia – Comedy Store and Comedy Works; Benefit Programs: Cleft Palate Clinic and Children's Miracle Network; Exotic Dancer Venues: Holiday Inn, Dutch Town & Country Inn, Michael T and The Upfront Connection, Extra Grams, Princess House and Tupperware parties, Balloons Because.
Rod Serling, Peter Lore, Boris Karloff, George C. Scott, Alred Hitchcock, Eddie Murphy, Yoda, Humphrey Bogart, Sidney Greenfield, Bela Lugois, Rocky Balboa, Frank Fontain, Richard Pryor, Rodney Dangerfield, George Carlin, Edward G. Robinson, Lional Barrymore and Long John Silver.  Listen >>
Amish, Spanish, French, Old Man, Irish, German, New England, Indian, Gay, New York, Southern, British, Australian, Scottish, Russian, Oriental.  Listen >>
Monkey, Snake, Rope Pull, Invisible Box and Godzilla.
Jumping Horses, Scuba Diving, Boat Owner, Water Skiing and Snow Skiing.
Electrician, HVAC Technician, Plumber, Carpenter, Appliance Repair, Vending and Game Technician, Tree Trimmer, Retired Volunteer Firefighter and Pyrotechnician.